Why choose NightSnipe Razorback as your compound or crossbow light?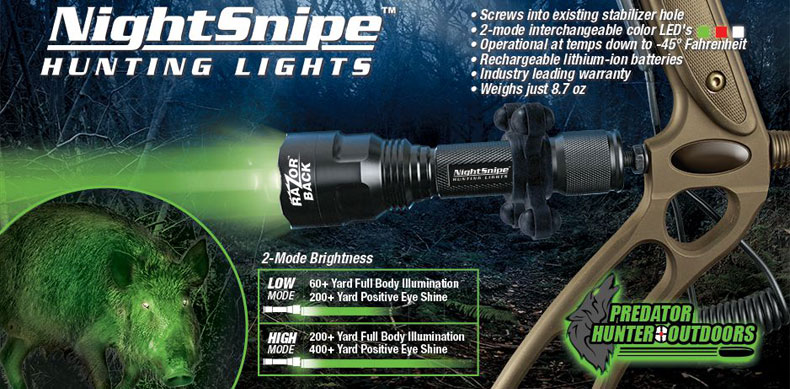 The Razorback was designed and chosen as our archery light because of its simplicity, effectiveness, weight to stabilizer comparability, key features and the ability to choose the options YOU want.
The Razorback comes standard with Bowjax vibration / sound dampeners to keep your archery shots as quite as your traditional stabilizer. It also gives you the option to choose between a coiled click switch OR a coiled pressure pad switch depending on personal preference.
A fixed, non-adjustable beam light as the Razorback is the preferred and proven design that is most effective time after time. We all know that archery shots mean our game is up close and personal! Fumbling with trying to adjust your light beam is just not practical at close ranges and not effective. The light beam that the Razorback portrays at bow ranges has been designed for optimal target coverage and quick shot placements without any adjustments and full illumination of your target.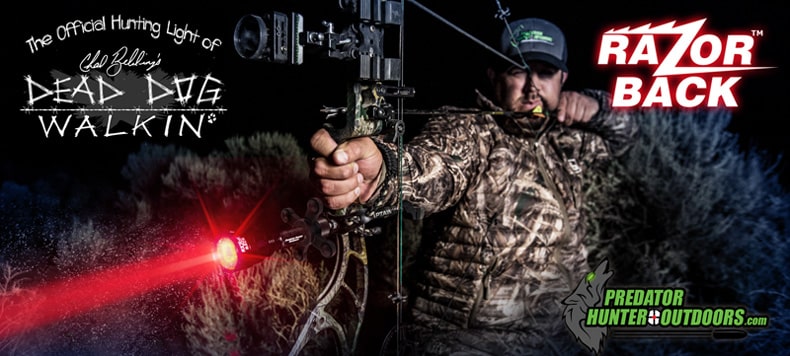 An adjustable beam light is ideal for extremely long ranges, not at archery distance ranges. The tight beam is too small and often results in the animal not being fully illuminated or at the targeted animal's feet.
Why we use red and green LEDs in our hunting lights
The Razorback was also designed with a 2 mode, low / high Cree LED. The low mode was tuned to precisely give 30% of its full output, the perfect amount of light for archery range shots without spooking your game. The high mode is ideal for long range scanning as well as the ability to transform your Razorback into an effective 200 yard full body illumination rifle light.
The Razorback Archery lights, Simplicity, Effectiveness, Reliability, and Versatility make it a killer in any environment!
The Razorback Bow Light Kit key features:
Standard with your option of 1 or 2 Bowjax dampener / silencer systems. Optional crossbow picatinny rail and scope mount which comes standard in the Class-2 kit.

Light is constructed of aircraft grade T-6 aluminum for heavy impact and recoil resistance.

All Razorback Hunting Light™ Kits come in an exclusive Flambeau hard plastic carrying case that contains a foam insert which safely separates and protects all components for years of reliable protection.

Available in green, red, and white 100,000 hour interchangeable CREE LED.

Light and CREE LED's manufactures under an ISO9001 certified manufacturer.

Bezel and reflector engineered for both close range archery and extreme distance shots.

Water resistant with included O-ring seals including LED seal for added protection.

100% operational at temperatures down to -45 degrees Fahrenheit.

Dimensions: 6"L X 1.75" DIA. X 1" DIA. Tube.

Weight: 7.45 ounces (battery installed)

Threaded stabilizer tailcap with pressure or (click pad).

Dual battery charger with AC and DC plugs.

Two 10 year rated 3.7 volt 18650, 2400+ mAh rechargeable batteries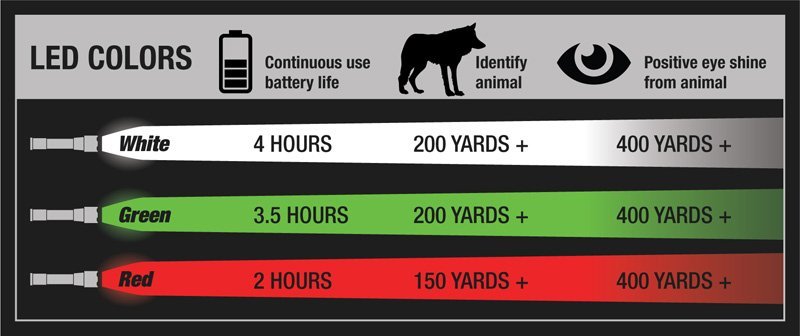 Predator Hunter Outdoors
1-855-SONGDOG (766-4364)
79800 McFadden Armada, Michigan 48005