NightSnipe™ Hunting Lights are the top extreme range hunting lights available on the market today. Whether you use a bolt-action hunting rifle, tactical / AR rifle, modern sport rifle, shotgun, compound or crossbow our hunting lights will provide you with the visibility you need to hunt long after the sun goes down.
With our exclusive NightSnipe™ FIXED beam Hunting Light, you can safely and effectively target coyotes, foxes, bobcats, raccoons, wild hogs and other predators at night at extreme distances.
The NightSnipe Gun Light Kit key features:
Light is constructed of aircraft grade T-6 aluminum for heavy impact and recoil resistance.

NightSnipe EXCLUSIVE smooth lens end cap specifically designed to reduce light spill and illumination of your surrounding area creating more success by not being detected.

All NightSnipe™ Hunting Light Kits come in an exclusive Flambeau hard plastic carrying case that contains a foam insert which safely separates and protects all components for years of reliable protection.

Customer has the ability to choose the exact mounts, coiled switches and led colors for their specific needs and weapons.

Interchangeable green, red or white 100,000 hour CREE LED modules.

Optional 1 – Mode (HIGH) led or 2- Mode (LOW / HIGH) LED.

Light and CREE LED's manufactured under an ISO9001 certified manufacturer.

Bezel and reflector engineered specifically for extreme distances with the highest quality materials.

Water resistant with included O-ring seals including LED seal for added protection.

100% operational at temperatures down to -45 degrees Fahrenheit.

Dimensions: 7"L X 1.85" DIA. X 1.14" DIA. Tube.

Weight: 9 ounces.

Universal scope mount compatible with any scope tube diameter.

Mounts to scope, barrel or picatinny rails.

Coiled tactical tailcap with velcro pressure or click on /off option.

Push button on/off regular tailcap.

Dual battery charger with AC and DC plugs.

10 year rated 3.7 volt 18650, 2400+ mAh rechargeable batteries.

Industry leading warranty and customer service.
No matter what game you pursue Predator Hunter Outdoors has you covered. Different species of animals see colors differently. With red, green and white interchangeable led modules available, you can choose the specific color for your intended game. Changing your led module color can be done in less than 30 seconds in the field with no special tools required.
NO filtered lenses are used. Filtered lenses decrease your useful beam distance by more than 50%. By using a clear lens and colored led, you are assured to reach maximal distance from your NightSnipe line of hunting lights.
The video below explains why we use red and green lights
NightSnipe Exclusive designed lens end cap provides the predator or hog hunter optimal concealment without being detected. By using the smooth end cap, you are eliminating the "light spill" that is escaping out the sides of the serrated end caps used on many hunting lights in the market. This light spill will illuminate you, your partner, and close surrounding area creating a disadvantage to the hunter. Take a look at the short video below which explains how our new end cap greatly increases your success of staying undetected.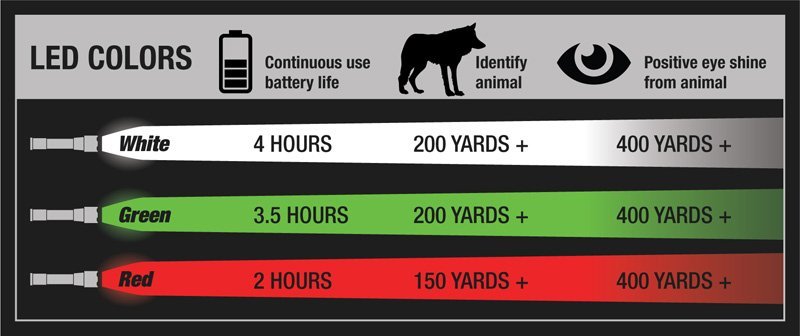 Predator Hunter Outdoors
1-855-SONGDOG (766-4364)