Description
Hogster Thermal Clip-On Attachment
The Bering Optics HOGSTER C™ VOx 384×288 Thermal Clip-on Attachment is unique with no rival.  Aimed at the growing feral swine market, the product is exceptionally lightweight and compact, also perfect for predator hunting. HOGSTER C is also versatile. It can be simply mounted in front of the daytime scope using a clip-on mounting system, making the conversion quick and easy since no re-zeroing is required. It can also be used as a handheld imager for scouting.
The HOGSTER is built with the superb Germanium optics that is paired with an advanced Vanadium Oxide (VOx) uncooled thermal core and proprietary electronics. Simple to use, the HOGSTER C has an easy to understand and navigate menu including a wide range of options including switchable image polarity.  The control buttons are designed with tactile elements, allowing the user to operate even in pitch-black situations.
The device is nitrogen-purged, and is water-, dust- and shock-proof. The HOGSTER C 384×288 Thermal Clip-on Attachment is action ready in virtually any environment or light conditions including conditions when the environmental obscurants such as smoke, dust, haze, fog, are present.
FEATURES:
Superior for hogs and predator control at medium- and long-range distances
• Convertible to the hand held imager when coupled with a detachable eye piece
• Switchable image polarity: White Hot / Black Hot / Red Hot / Colored Hot
• Ability to center the screen with respect to the viewed reticle
• Built-in electronic compass and accelerometer
• Automatic shatter based thermal core
• High resolution 1024×768 OLED Display
• Precise lens focusing mechanism
• Battery status indicator
• Video Out
SPECIFICATIONS: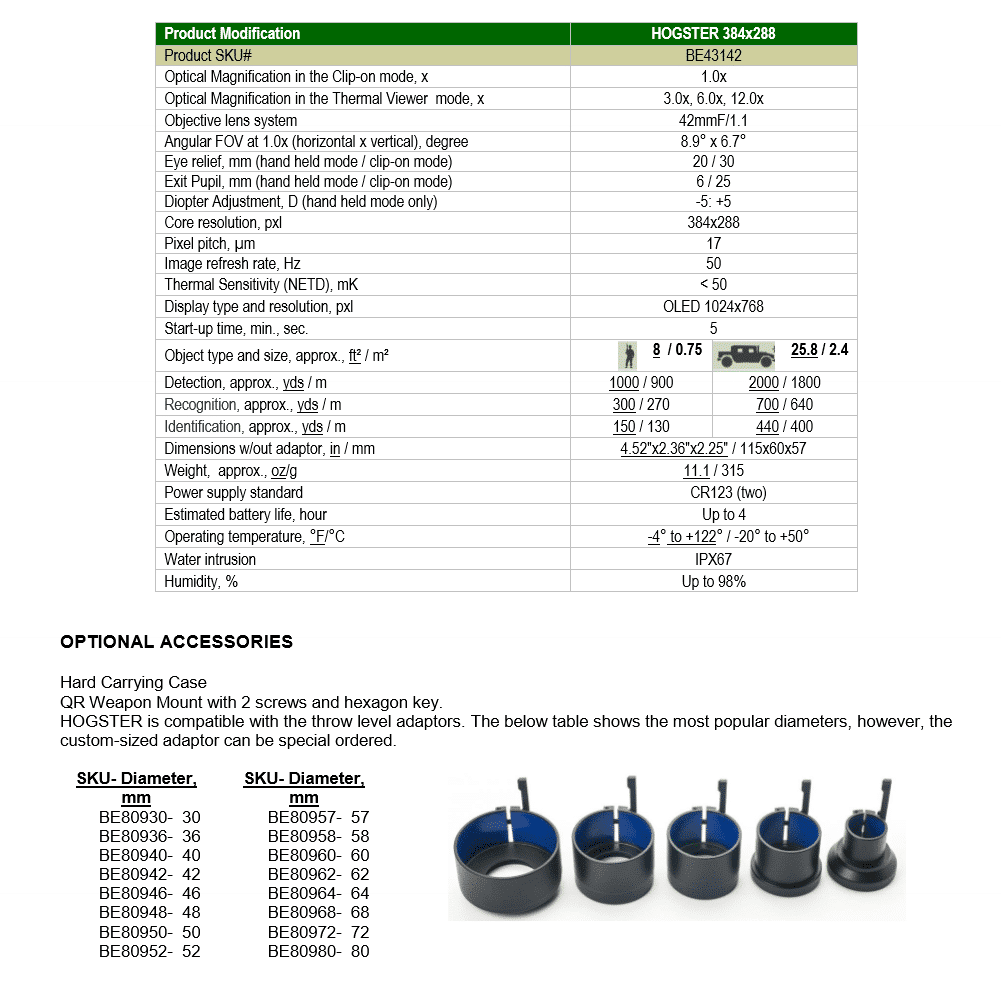 KIT INCLUDES:
HOGSTER C VOx 384×288 Thermal Imaging Device
Front lens flip-up protective cap
Detachable eye piece with a rubber eye guard
Detachable clip-on connector piece
Soft Carrying Case
Lens Cleaning Cloth
Instruction manual
Video-out Type C USB cable