Description
InfiRay Outdoor MINI ML19 384 19mm Thermal Monocular
(1-4x magnification and 950 yards of detection!)
Michigan residents please call and we will pay your sales tax! (No tax charged for other states if placing order on website.) (855) 766-4364
The InfiRay Outdoors Mini MH19 is the smallest fully multi-functional 17 micron thermal imaging monocular on the market. It can be used as a handheld monocular or helmet mounted monocular. The IRay Mini features bluetooth, picture-in-picture, and compatibility with rechargeable 16650 batteries as well as external power supply.
Flexible Mounting Options and Friendly Operation
For hands-free operation there are 2 mounting points designed to allow for a wide variety of dovetail helmet mounts. The Mini's display icons flip automatically when orientation is flipped.
The MH25 is operated by an intuitive clearly labeled menu and user friendly rotary button. This one button operation has positive clicks with each selection and allows for quick and easy operation without having to search for any buttons in the dark.
Power Supply Options
Using the included battery extender the Mini is compatible with CR123A, CR123, 16340, and 16650 batteries. Using 1 16650 the Mini will run for 3 hours, and using the included power cable with a 10,000mah USB battery the Mini will run for 18 hours.
InfiRay Outdoor MINI 384 ML19 Mini Thermal Monocular Specifications:
| | |
| --- | --- |
| Device Technology: | Thermal Imaging |
| Sensor Resolution: | 384×288 |
| Optical Magnification: | 1.0X |
| Detection Range: | 950 |
| Digital Magnification: | 4X |
| Sensor Frame Rate: | 50hz |
| Sensor Pixel Size: | 17 Micron |
| Objective Diameter: | 19mm |
| Objective F#: | 1 |
| Objective Focal Length: | 19mm |
| Onboard Recording: | No |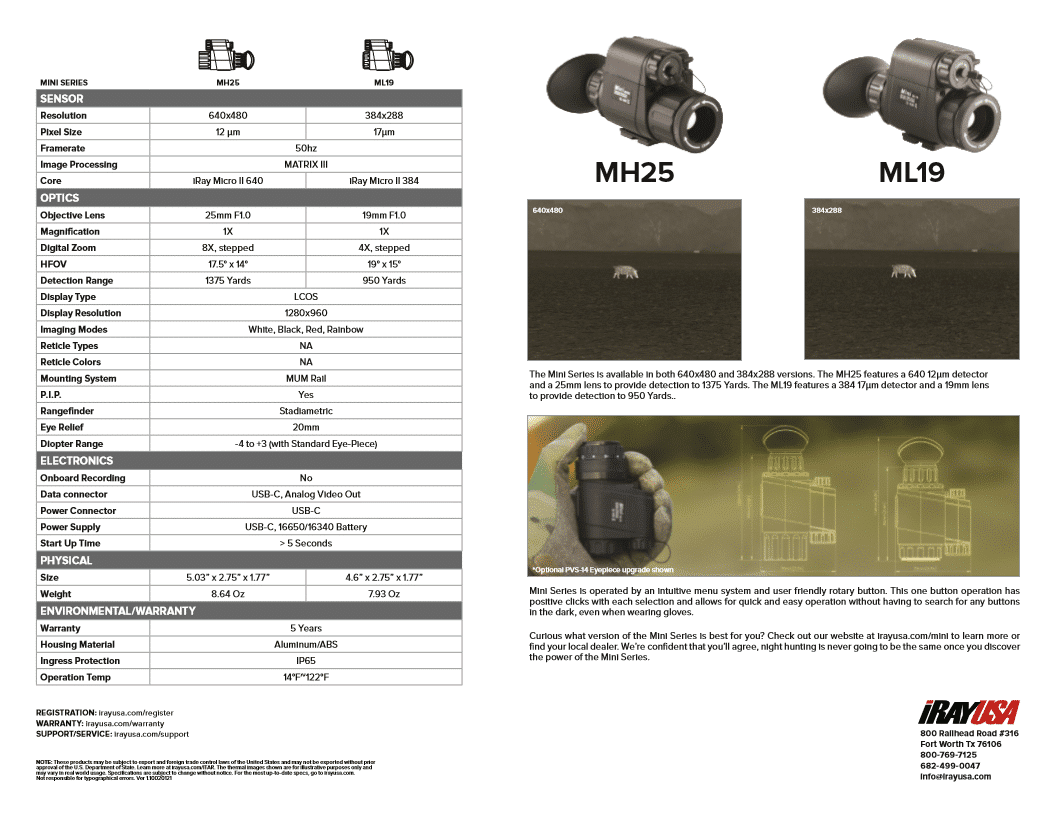 InfiRay Mini Thermal Monocular – Manual
iRayUSA 5-Year Warranty with a 5-day Repair Guarantee 
"This product is backed by iRayUSA's industry-leading 5-Year iRayUSA warranty with a 5-day repair guarantee. During the published 5-year warranty period, iRayUSA will repair or replace, at its discretion, any optic that becomes defective from normal use. If they cannot repair an optic in less than one week, they will offer a replacement in like or better condition."